An assault on our wild spaces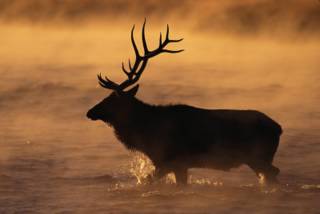 elk near Yellowstone

I am so angry about this...
Bush Administration Unleashes Drilling Onslaught in Western Wildlands
If you want a Cliff Notes version of this (it
is
the weekend after all), basically the Bureau of Land Management (BLM) and the Forest Service have opened bids for drilling in various parts of the American West, affecting New Mexico, Colorado, Wyoming, and Utah. According to my calculations, at least 200,000 acres of previously protected land is now at risk.
Species affected include Canada lynx, gray wolves, grizzly bears, cutthroat trout, bighorn sheep and bald eagles (in Wyoming); mule deer, elk, black bears and the endangered Mexican spotted owl (in Colorado); and pronghorn antelope, black-footed ferret, mule deer and black-tailed prairie dogs (in New Mexico). Not to mention the old growth forests that are also in peril.
I am outraged. Particularly, now that I am in Canada and realize how much wild space I have been denied growing up in the US, where everything has been paved and commercialized. I feel like someone is threatening to burn all of my photo albums, my keepsakes, my home. I'm definitely following this and will follow up with posts as new information is released....
jane
Ps: and thanks to
Cat
for being the first source of info on this...